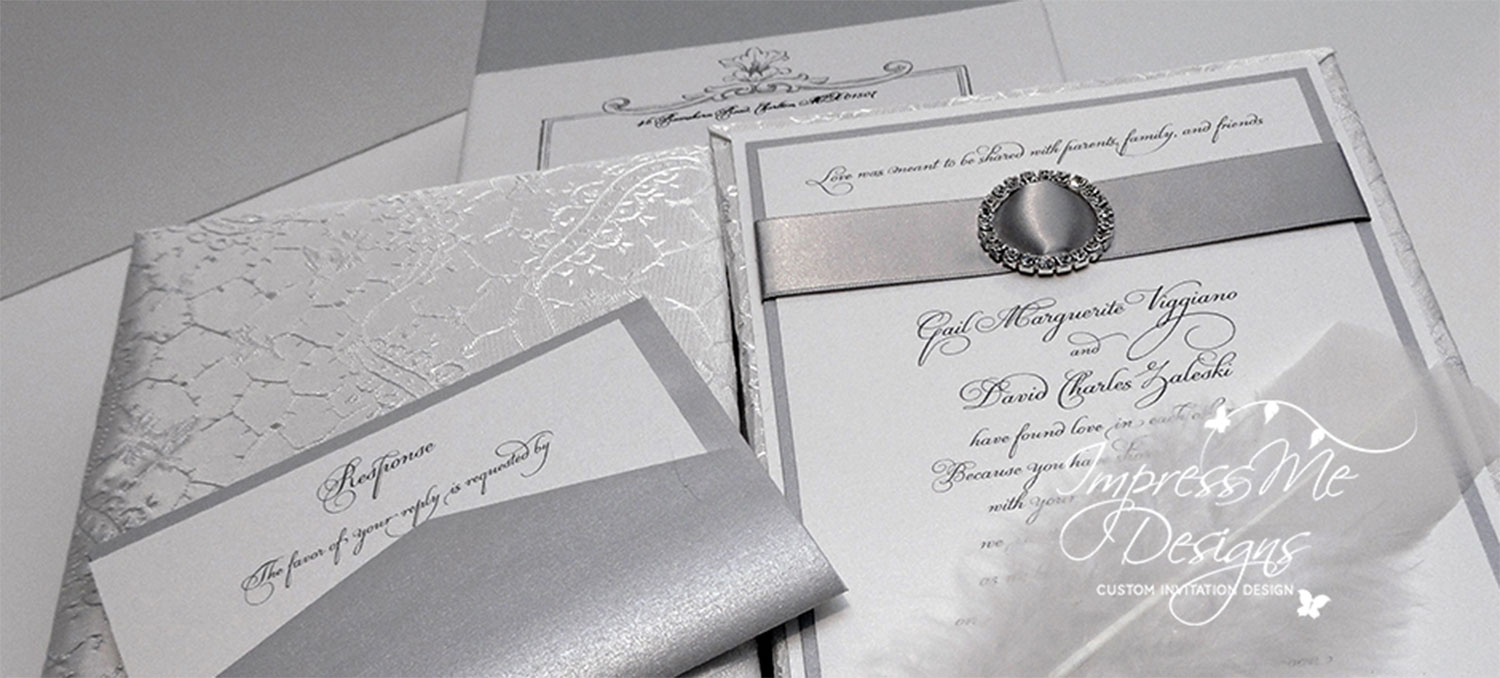 Can I add on more invitations to my order once the process has begun?
Yes, you can always add on to the order, however you cannot deduct from the initial quantity requested since paper and materials are not returnable.
Do you have a minimum quantity?
No, if you want to order 52 invitations, we'll make 52, 53, 54…whatever number you request. You may want to factor in a few extra for missed guests or keepsakes. Keep in mind adding on could impact delivery times. Any add-ons will be properly totaled onto your final invoice.
Do you offer guest addressing services?
Yes, we do! Most commonly selected is digital calligraphy. We will take your guest addresses and convert them into using the same exact fonts as your invitation. We do not use sticky labels from an office supply store – ever. And, for those who have fallen in love with hand written calligraphy, we offer pen and ink services as well.
How much should I spend on my wedding stationery?
Couples spend on average between 5-10% of their wedding budget on their invitations and reception paper goods. The invitation sets the stage for your monumental event.
Do you design stationery and invitations for same-sex marriages, civil unions and commitment ceremonies?
Absolutely! Love comes in all shapes and sizes and we are not a one-size fits all design studio. We welcome all celebrations of love and look forward to celebrating with you.
How long will it take?
Generally speaking, wedding invitations take 4-6 weeks; birthdays, etc. can be 3-5 days from approval of text files. We will provide a more accurate timeline once we understand all the special details of the project.
Do you offer invitations in other languages?
Yes. We have created invitations in a multitude of languages including, French, Greek, Vietnamese and Spanish. We do ask that you provide the translation.
Can you ship or mail out my invitations for me?
Yes. We offer post and ship services and provide this service frequently. This takes one more step off your planning plate!
Can you make a custom postage stamp?
Yes, we will create a custom postage stamp for each invitation suite we design and load it up onto Zazzle for you to purchase.