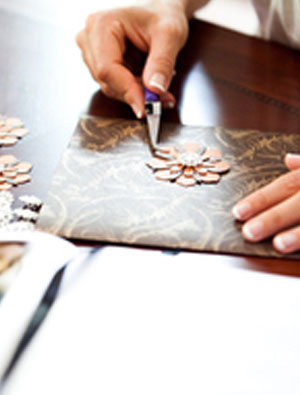 W e'd like to have a conversation with you to learn more about your event details and gather as much information as possible about what you envision for your event. Understanding the "big picture" is important since the invitation sets the stage and tone of your event and we want your guests to be excited about attending.
Will you be having a black-tie affair, a destination wedding on the beach or perhaps an outdoor garden cocktail party? Do you love lots of color or prefer soft and subtle? Are you traditional or prefer a vintage, rustic or modern style? If you have a Pinterest board, share it with us. Seeing your inspiration boards tells a story of what you intrigues you. Send us swatches, photos, even paint chips! And as much as we love seeing what inspires you, on the flip side, we also like to know what you prefer us to avoid. Maybe you dislike organza or daisies. Be sure to tell us that too.
Once we gather the details, its custom sample time. We'll design a serious of samples (generally 3 sets) all based on your event details. We want them to look as real as possible to help you narrow in your focus and feel great about your final selection of details. We will not ask you to browse binder, after binder of invitations. In fact, we don't have any binders! We only do custom design and is another reason you can order an exact quantity of invitations.
We'll review the samples with you and help you make that final selection. From there, we will ask you to firm up the total number of invitations you will need and then we'll write up an official contract. Once the contract is signed and a deposit is applied, materials will be ordered for production and text files will be sent to you via email for review prior to printing.